Our Chrysalis Awards
for Remodeling Excellence:

2023 National Award
Residential Interior
under $150,000

2023 Regional Award
Kitchen Remodel
under $75,000

2021 Regional Award
Bath Remodel
under $50,000



TEW Design Studio
Remodelers of Raleigh, North Carolina


Industry Associations:
Professional Designation:

Rima Nassar
TEW Design Studio
611 Germantown Rd.
Raleigh, NC 27607
Phone: 919-803-2008
Website: www.tewdesignstudio.com/

2023 Regional Award
Kitchen Remodel under $75,000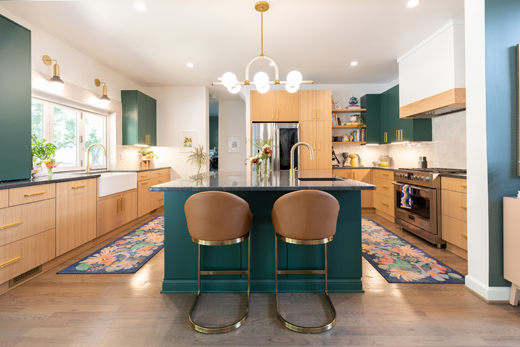 Updating kitchens constructed in the 1990s oftentimes requires rethinking unusual design decisions. The biggest challenges in the kitchen were the unusual design configuration, dated materials, and an unsatisfactory flow between kitchen workspaces. This Raleigh residence received a more functional layout for everyday living and entertaining with a pass-through window that opens to the patio, takes advantage of natural light, and creates an indoor-outdoor dining transition. In the process, the homeowners were able to personalize the space with attractive fixtures and materials that met their design goals. Reconfiguring the kitchen helped the space transform from underutilized to unified and welcoming.