Our Chrysalis Awards
for Remodeling Excellence:

National Winner
Kitchen Remodel
$75,000 - $150,000



National Winner
2019 Bath Remodel
under $50,000




National Winner
2019 Residential
Universal Design



ONE eleven
Remodelers of Las Vegas, NV


Industry Associations:
Professional Designation:

Julie Leverett
ONE eleven Ltd.
2618 Heathrow St.
Las Vegas, Nevada 89135
Phone: 702-324-2691
Website: www.ONEelevenltd.com

NATIONAL WINNER
2019 Kitchen Remodel
$75,000 - $150,000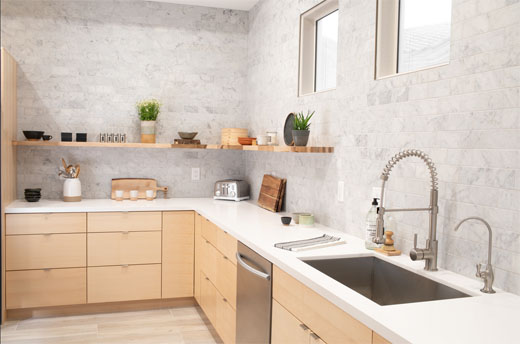 This couple wanted a kitchen that would restore balance and add expansive quality of life. One that would direct the focus away from their physical limitations allowing them to concentrate on living full lives no matter those limitations. They wanted an open concept which provided a light, airy, spacious feel granting the freedom of movement with full accessibility.

From the early design phases we took accessibility into account and because this was an inherent part of the design rather than an afterthought, the Universal Design features blend seamlessly adding beauty to the kitchen rather than detracting from it.