Find An Award
Winning Remodeler
Near You!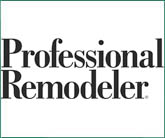 About The Chrysalis Awards
Since 1993, the Chrysalis Awards have honored the finest remodeling projects in the country. Our goal is to provide consumers, remodelers, designers, architects and editors with a resource for remodeling ideas and to identify those companies that produce award-winning work. On this site, you can find remodeling ideas from all over the country, and also find the award-winning remodelers closest to you.

All remodelers presented are recipients of the prestigious Chrysalis Award which honors the talent, creativity and professionalism within the remodeling industry.

Take your time and look at as many of these great projects as you wish. Then, when you're ready to remodel, contact the Chrysalis Winners in your city to build your dream.