Our Chrysalis Awards
for Remodeling Excellence:
2020 Regional Award
Bath Remodel over $75,000



R. B. Schwarz
Remodelers of Chesterland, Ohio


Industry Associations:
Professional Designation:

Robert Schwarz
R. B. Schwarz
12944 South Woodside Drive
Chesterland, Ohio 44026
Phone: 216-952-9801
Website: www.rbschwarzinc.com

2020 Regional Award
Bath Remodel over $75,000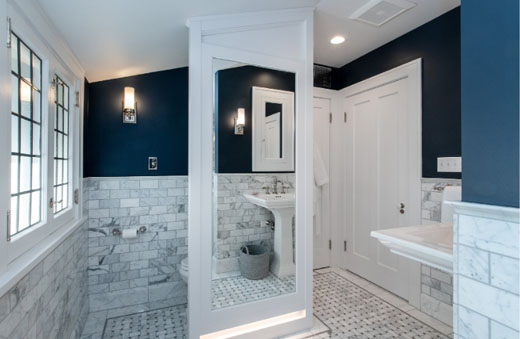 Our clients wanted modern conveniences while maintaining a historically relevant remodel.

The former master bathroom was so tiny only the husband used it. Accustomed to their own space, they asked for the new design to keep their individual areas while allowing them to share a larger bathroom.

To meet our clients' needs we combined two rooms: the original bathroom and a small office/closet to create a spacious bathroom that included a pedestal sink for him and a large vanity for her. We also added an elegant shower, a toilet with a privacy wall, and a marble dressing table.