Our Chrysalis Awards
for Remodeling Excellence:

2020 National Award
Whole House Remodel
Over $700,000

2020 Regional Award
Detached Outbuilding



2018 National Award
Residential Exterior



2015 National Award
Best Residential Exterior
over $100,000
Team Award


Daniel Contelmo Architects
Remodelers of Hudson Valley, NY


Industry Associations: AIA, CRAN, National Trust for Historic Preservation, and Green Building Council
Professional Designation: Registered Architect

Daniel Contelmo
Daniel Contelmo Architects
30 Coft Road
Poughkeepsie, New York 12603
Phone: 845-241-0802
Website: www.dtcarchitects.com

2020 Regional Award
Detached Outbuilding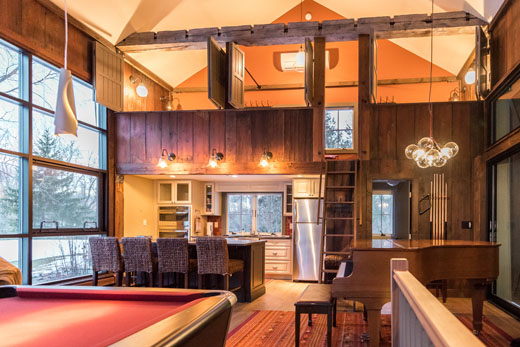 The owners of the 100-year-old storage barn wanted a versatile weekend retreat. Situated into a hill, the barn looks out on beautiful vistas on three sides. We incorporated 12-foot-tall commercial windows on the two-story facades to provide vast views of the landscape. Metal window frames give a contemporary feel to an otherwise rustic interior. Large shutter doors on the uphill side open for summer piano concerts for friends and family to enjoy. The interior includes a sitting area, pool table, piano, kitchen, bath, and a sleeping loft with shutters to close off the lower level.