Our Chrysalis Awards
for Remodeling Excellence:
2016 Award
Residential Interior
under $100,000

2015 Bath Remodel
$75,000 - $100,000

2014 Finished Basement

2014 Kitchen Remodel
$50,000 - $75,000

2000 Finished Basement


Alure Home Improvements
Remodelers of East Meadow, NY


Industry Associations: NARI; LIBI; Kohler Key Influence Council, Franchise for the Owens Corning Basement Wall Finishing System
Professional Designation: Full Service Remodeler

Rob Weiss
1999 Hempstead Turnpike
East Meadow, NY 11554
Phone: 516-296-7777
Fax: 516 932 7625
Website: www.alure.com

2014 Kitchen Remodel - $50,000 - $75,000
See all the project photos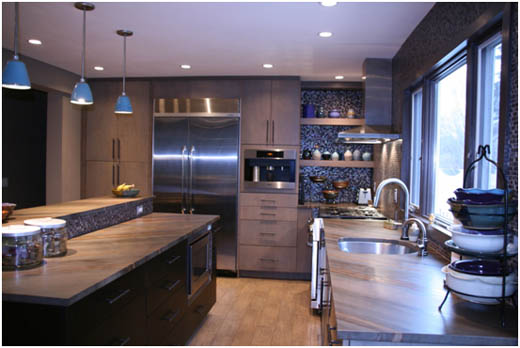 The challenge was to pen the kitchen, but to also keep a favorite piece of the original design, which was a large window. The expressed needs included the desire to attractively display finished pottery but also have the room to store the handmade dinnerware that was used daily. Removing an entire wall challenged the available cabinet space, which was satisfied by the use of a large rectangular island. This was made possible by relocating a laundry room to the garage. Quartzite countertops and simulated wood plan flooring that is porcelain tile are just a few of the design choices made to enhance the end result. Now family and guests alike enjoy this gathering space and get a touch of tomorrow from their recessed coffeemaker juxtaposed against the simplicity of handmade pottery.