Our Chrysalis Awards
for Remodeling Excellence:
2016 Award
Residential Interior
under $100,000

2015 Bath Remodel
$75,000 - $100,000

2014 Finished Basement

2014 Kitchen Remodel
$50,000 - $75,000

2000 Finished Basement


Alure Home Improvements
Remodelers of East Meadow, NY


Industry Associations: NARI; LIBI; Kohler Key Influence Council, Franchise for the Owens Corning Basement Wall Finishing System
Professional Designation: Full Service Remodeler

Rob Weiss
1999 Hempstead Turnpike
East Meadow, NY 11554
Phone: 516-296-7777
Fax: 516 932 7625
Website: www.alure.com

2014 Finished Basement
See all the project photos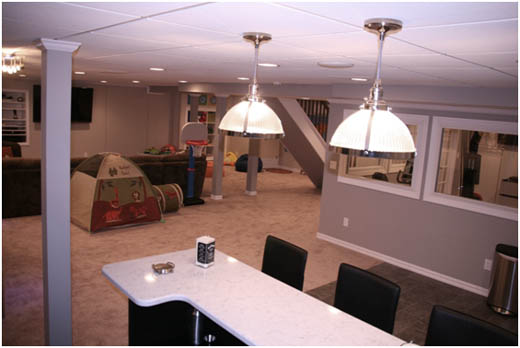 This project involved taking an existing unfinished space and dedicating it for family use while adding living space. The open concept allows for every family member to have an area for their leisure activities which includes an exercise room, media/family room area, kids play area, bar and bathroom. Using the Owens Corning Basement Wall Finishing System added comfort to the room and an aesthetically pleasing sound absorption in conjunction with other technologies like Armstrong ceiling tile, ceramic flooring tile and synthetic carpeting. This now attractive, multi-functional, healthy, clean basement space is being enjoyed by all members of the family and will continue for years to come.