Our Chrysalis Awards
for Remodeling Excellence:
2016 Award
Outdoor Living

2015 Outdoor Living
over $150,000

2012 Best Kitchen Remodel
$50,000 - $75,000

2012 Best Bath Remodel
$40,000 - $60,000

2009 Best Deck/Porch

2008 Best Kitchen
Remodel Under $40,000

2006 Minnesota State
Remodeler of the Year


James Barton Design Build
Remodelers of Apple Valley, MN


Industry Associations:
Professional Designation:

James Madsen
5920 148th St W., Suite 100
Apple Valley, MN 55124
Phone: 952-431-1670
Fax: . 952 431-8468
Website: www.jbdb.biz

2015 Outdoor Living over $150,000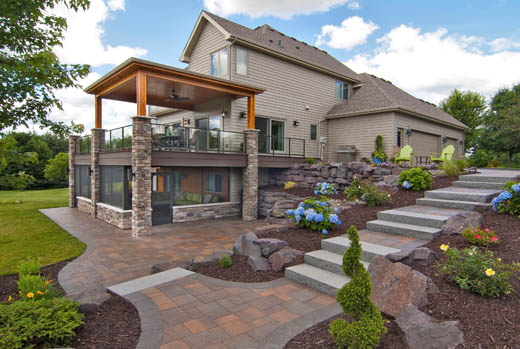 The owners of this rurally located two story wanted to create a space to relax and enjoy Minnesota's short summer and fall seasons. The home's generous lot provided the perfect opportunity for the family to build an at-home retreat that includes a wraparound deck, screened in porch, oversized patio area for entertaining and a space for a future hot tub. This two level outdoor living space can accommodate large gatherings as well as offer intimacy in its separate areas. The stone pillars, T&G cedar and tumbled paver surfaces create a warm and inviting feel. The perfect getaway without leaving home.