Our Chrysalis Awards
for Remodeling Excellence:

2016 National Award
Kitchen Remodel
$75,000 - $150,000

2015 Addition
over $250,000



National Winner
2014 Best Kitchen Remodel
under $50,000



National Winner
2014 Best Bath Remodel
$40,000 - $60,000



National Winner
2013 Residential Exterior
under $100,000

2013 Residential Interior
over $100,000

2012 Best Kitchen
$75,000 - $100,000
2012 Best Residential
Exterior under $100,000
2011 Bath Remodel
Over $60,000

2011 Residential
Specialty Item


Normandy Remodeling
Remodelers of Hinsdale, Illinois


Industry Associations: NARI and NKBA
Professional Designation:

440 E. Ogden Ave.
Hinsdale, IL 60521
Phone: 630-455-5600
Website: www.normandyremodeling.com



2014 Best Kitchen Remodel under $50,000
National Winner
See all the project photos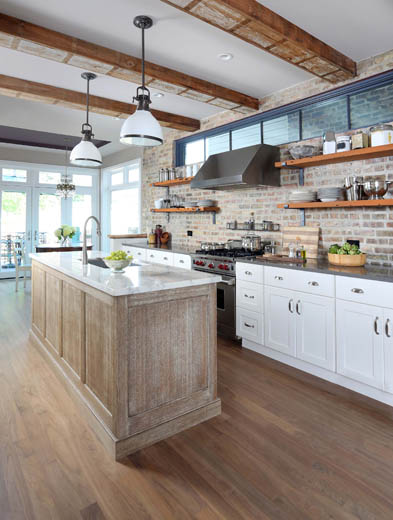 This young professional couple had been renovating their old shotgun Chicago brick home for a few years, saving the daunting kitchen remodel for last. They wanted a wow kitchen that fit their modern personalities and their vintage home. Eclectic it is!!

The client wanted an open floor plan from the front to the back of the house. With existing structural elements and key mechanical components to work around, the available space was predefined for us as a galley kitchen which would open to the dining room and family room towards the front of the house and a breakfast room towards the back. Opening up the back wall of the house and putting in floor to ceiling windows transformed the space with amazing natural light flooding in. They also wanted to incorporate the exposed brick that was hiding behind the plaster walls adding to the vintage feel of the home. I suggested a transom window at the top of the brick wall to break up the material and give it a bit of a modern "loft" vibe. Adding open shelves instead of wall cabinets to showcase as much brick as possible was a natural progression for the layout of that wall. Using reclaimed wood for the shelves was a natural choice for the overall aesthetic.