Our Chrysalis Awards
for Remodeling Excellence:
2017 Regional Award
Bath Remodel
$50,000 - $75,000
(Team Award)



2016 National Award
Addition under $250,000
(Team Award)



16 National Award
Residential Historic Renovation
(Team Award)



National Winner
2015 Residential Exterior
under $100,000
(Co-Winner)

2015 Whole House Remodel
$500,000 - $1 Million



National Winner
2014 Best Kitchen Remodel
$75,000 - $100,000



Cummings Architects
Remodelers of Ipswich, MA


Industry Associations:
Professional Designation:

Chloe Rideout
Cummings Architects
57 South Main Street
Ipswich, Massachusetts 01938
Phone: 978-356-5026
Website: www.cummingsarchitects.com

2014 Best Kitchen Remodel
$75,000 - $100,000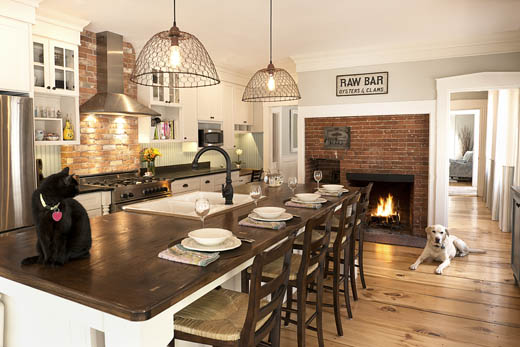 The kitchen is often said to be the heart of the home, a place of warmth and comfort where people can't help but linger. Cummings Architects' kitchen design in this New England Greek Revival home elicits exactly that feeling. Taking its cue from the original cooking fireplace, a new brick accent at the modern range bridges the past with the present. A salvaged wood counter and tin back splash add color and texture that complement the honey-colored antique flooring. Eclectic details and restored historic focal points make this kitchen a beautiful, comfortable space ready for many happy memories to come.