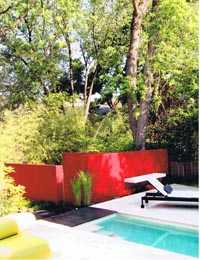 The homeowners wanted an understated, yet ultra modern design; they envisioned flowing and open spaces with minimal, clean and crisp lines. Through the design process we discovered that the homeowners, avid architecture aficionados, yearned to own a Hugh Newell Jacobsen Dream House.

With a few modifications we were able to incorporate their requirements and Hugh's Dream House design. Using the Dream House as the foundation, we built a home of their dreams. Although we adapted the design to meet our client's distinct needs and aesthetic desires, our mission was to maintain the proportions and integrity intrinsic to a Jacobsen plan, and the Dream House itself.

From an aerial vantage point, the house takes the form of an "H," achieved by arranging 3 pavilions, joined at a perpendicular angle. The modern, pavilion-based residence has the signature marks of a Jacobsen composition: simple, gabled forms, rectangular in plan, flat arches, and linear roof lines, and is now a centerpiece in the neighborhood. The spaces throughout the home are intentionally simple in their organization and geometric form in order to frame and give balance to the modern pavilion-based residence.